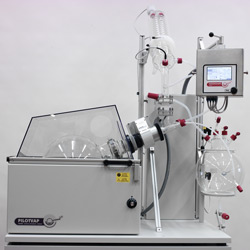 Rotary Evaporator
PILOTVAP
®

-PG

The PILOTVAP® is a patented pendulum system rotary evaporator with Touch Screen Interface.
Technical Details of the PILOTVAP
®

-PG
POWERGUARD
Process control unit with touch screen
High speed vacuum controller with automatic vacuum control

Overpressure alarm and automatic limiter

Vapor temperature controller

Water bath controller

Speed controller with slow acceleration mode

RS232-port for data transfer (other ports upon request)

Customer specified programs can directly be loaded from a PC

Modular technique

Watchdog
Available options:
PATENTED Automatic speed control to improve the drying process

PATENTED Automatic foam reduction to increase the performance

PATENTED Indicator for the contents of the rotating flask

PATENTED Computer controlled seal monitoring system (STACONSEAL)

Computerised foam detector

Automated reflux
| | |
| --- | --- |
| Running mode | Entering data |
| Selecting options and more | Displaying gradients |
Rotating flask
The floating rotating flask reduces mechanical stresses, to achieve by constant tightness, a powerful distillation, even under permanent operation.

Hydraulic damping system for the rotating flask with drive system (patented), to increase the performance, when drying powders.

Surface treated glass flanges for maximal vacuum stability.
Sealing system
Protection Systems
Vapor temperature alarm, to automatically shut off the water bath.

Implosion protection hood for the rotating flask, made of transparent polycarbonate.

The pendulum system makes the rotating flask float in the water bath, to guarantee highest performance, easy handling and maximal reliability.
PILOTVAP
®

-Applications
Excellent suitable for recovery of solvents

Problem-free distillation of high boiling solvents

Distillation of large amounts of solvent

Concentration of extracts

Drying of powders

Concentration of fractions coming from HPLC
Hint
All PILOTVAP®-Systems can be modified to the
fully automated rotary evaporator POWERVAP®.